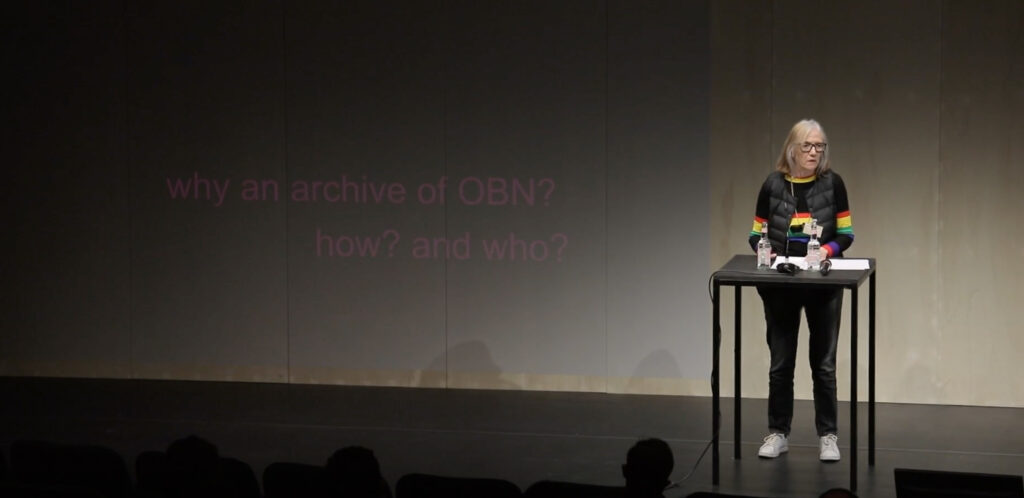 Unmasking Power as Art: Sharing Tactics & Practice

Berlin / 24 June 2023

Panel discussion with Mike Bonanno & Jeff Walburn / The Yes Men (Artists & Activists, US), Cornelia Sollfrank (Artist, DE). Moderated by Klara Hobza (Visual Artist, CZ/DE) within the framework of Disruption Network Lab conference.

Documentation of the panel here:

Positionen in der Kunst (1)

Wien / 30.Mai 2023

Portrait von Cornelia Sollfrank von im ORF Radio, von Barbara Eder.

https://oe1.orf.at/programm/20230530/720192/Positionen-in-der-Kunst-1

Cyberfeminism Index Book Launch and Reading

trust.support / Berlin / 25 January 2023

Book launch of Cyberfeminism Index together with Mindy Seu (New York). In Cyberfeminism Index (cyberfeminismindex.com/), hackers, scholars, artists, and activists of all regions, races and sexual orientations consider how humans might reconstruct themselves by way of technology. Edited by designer and researcher Mindy Seu, Cyberfeminism Index includes more than 700 short entries of radical techno-critical activism in a variety of media, including excerpts from academic articles and scholarly texts; descriptions of hackerspaces, digital rights activist groups, and bio-hacktivism; and depictions of feminist net art and new media art.

https://trust.support/events/cyberfeminism-index-book-launch-and-reading

We don't die – we multiply!

Art Academy Kassel / 4 – 6 Novmeber / 2022

Panel discussion as part of the conference "Arbeit an den Strukturen – Praxisbasierte Forschung in documenta- und Ausstellungsstudien" (Working on structures – practice-based research in documenta and exhibition studies). The panel addressed the combination of institutional and artistic archiving practices as a way of maintaining temporary, ephemeral, project-based and collective practices by the example of the Old Boys Network. Participants: Dušan Barok, Birgitta Coers and Cornelia Sollfrank. Moderation: Malin Kuht.

https://kunsthochschulekassel.de/willkommen/veranstaltungen/events/arbeit-an-strukturen-praxisbasierte-forschung-in-documenta-und-ausstellungsstudien-tagung.html

Archiving a Network – the Case of the Old Boys Network

Hong Kong / 17 March 2022

New Approaches to Collecting and Preserving Complex Research-Based Art and Art Projects, Museum M+. Presentation and Workshop together with Dušan Barok and Anna Schäffler.

News From Where We Are # 5.

London, 6 May 2021

Marc Garett in conversation with Cornelia Sollfrank as part of The Radical Friendship Podcast Series by Furtherfield, London.